Happy 2022 🙂
The last week of each year I take off to reflect and replenish.
This year it happened a bit differently as we had a major snow storm and were without power for six days in frigid temperatures (below is when the snow had just started falling).
Power was restored last night along with a depth of gratitude for our neighbours who not only gave us firewood, lent us two generators but who, more importantly, showed us the gift of generosity and community. As they say here: " In the mountains we have to watch out for each other." And I can say they definitely do. We wanted community and we are finding it here.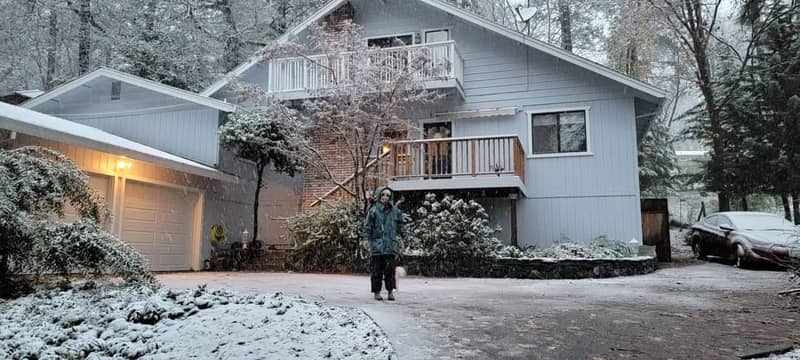 In past years at this time, I would set high goals for myself correlating my self-worth and measures of success with having hit certain achievements.
If the pandemic has shown us anything, it is a deeper compassion for ourselves, the suffering of others and also for the preciousness of each day and each interaction we have.
In a way, I feel these are precious gifts.
They build a level of rich connection with the world that we had otherwise been mostly sheltered from. The connection comes from a shared experience of suffering that deepens our level of understanding of other's pain and equally our resolve to help them out of it.
This year I have markers I want to achieve: publishing my first book, visiting my dad in Brazil later this year as he turns 80, getting more acclimated in our new city and home and for deeper richness and connection in my life and work.
While I have a list of things I know need to get done, fresh dreams and desires, I'm clear on this:
What matters is who I am BEING not to achieve more but to receive more of myself.
I've been asking the Universe for guidance this month. Specifically to help me reframe old perceptions of things I have had difficulty or resistance to changing: My relationships to money, death and even meditation – an otherwise impossible feat for me.
More so, I've asked to deepen my connection to my work and honestly looked at how much I care (or don't) about others, human suffering and the welfare of humanity.
While I believe you can be successful without all that heartfelt stuff, for me, I don't think I really can – not in a way that really matters.
I've still been too focussed on the external markers of success. And on being angry with money and time for not showing up and speeding things up the way I'd like. The infamous: "Why am I not there yet?"
And it's all resistance and fear.
I got present to the stories I keep telling myself that have genuinely crippled my joy and my ability to create what I say matters to me in the world.
* Self-doubt, my kryptonite of choice, has maintained its sharp fangs, stinging my open wounds of fear, anxiety and worry.
* Silenced self-expression and tolerating behaviours that aren't kind or supportive has been another one.
* Shame crippling the breadth of my honesty, connection and depth of vulnerability.
* Fear and scarcity: a constant state of worry and dress-rehearsing worst case scenarios to a point of making poor and life-limiting choices.
* I've had to look at where in my marriage I keep the peace instead of staying true to myself and holding my ground.
What's up for me in 2022 is this self-realization: I will not betray or abandon myself.
That at the core of my contribution and caring to the world is my ability to not abandon myself or to forsake myself for another or to past stories and beliefs that truly stole so much.
Kindness, self-compassion and forgiveness fortunately are abundant and will support a deeper connection with myself than judgement ever could.
To be the change in the world we desire…..
To have more of what we desire to have… requires a new level of BEING.
More so, in fact, a depth of being where we are more fully and genuinely ourselves operating from a place of sovereignty and personal authority.
From this place, we get to change OUR inner world and, in so doing, experience a deeper sense of wholeness, of being rooted in ourselves and inner peace.
It takes consistent awareness of and devotion to self with healthy doses of surrender and trust.
As I tell clients often: what got you to this point, isn't the same as what will get you to where you desire to go next. And I'm walking that journey right along side you.
=> Swimming in pools of fear and terror just isn't sustainable.
=> Neither is dress-rehearsing the worse case scenarios over and over in our minds in hopes that it will make things less painful. It doesn't.
It just makes us more worried and paranoid.
At its core, if we want to change our life, we have to fully own the role we play in creating our circumstances and that's a scary proposition.
We can't change others we are can totally totally change our perspective, behaviours and how we intentionally show up for ourselves and others.
Dancing the line between ego and soul remains a fascinating one.
What I do know is that the more we allow ourselves to be all of who we are, and we stay present, the more free we will feel.
Making choices from a viewpoint of plenty versus lack is a game-changer to build a bedrock for lasting change for ourselves and the world.
---
So I leave you with this as you step into a new year:
What matters most to you right now and how do you prioritize it in your life?
How do you really want to feel in key areas of your life and business – truly?
What do you want to BE MORE of and less of this year?
What stories and beliefs do you want to stop running the show?
What people, experiences, moments do you want to create?
Where can you create deeper alignment with yourself?
It's my sense that the more we deepen into the rich well of our soul, the more we realize that less really IS more.
Less stuff, proving, hiding, judging, scarcity and more compassion, love, kindness and self-trust.
My wish is that 2022 reminds you that you matter, that your desires are within reach, that you can overcome any obstacle and that support is just an ask away.
There's a lot that's still fucked up in the world but your energy, perspective and contribution is what will ultimately influence your overall life experience and the greater good.
Surrendering to the fact that we are the ones we'e been waiting for and staying open to support from the world is a dance to dance.
It is my wish that we live and contribute by softening into our strength, not by hardening into our fears.
Here's to a year rich in depth, joy and magical memories.
-Priscilla
P.S.: If you desire to deepen into your self-leadership as you build a sustainable business infrastructure that reflects your soul's calling, values and goals, I am currently enrolling in my 1:1 coaching programs and my group program Alchemize. Not sure which program is best for you? Book a no-pressure call with me here.
P.P.S.: I share valuable content that is not available in my newsletter on Instagram. Connect with me there.
---
Two books I'm reading now: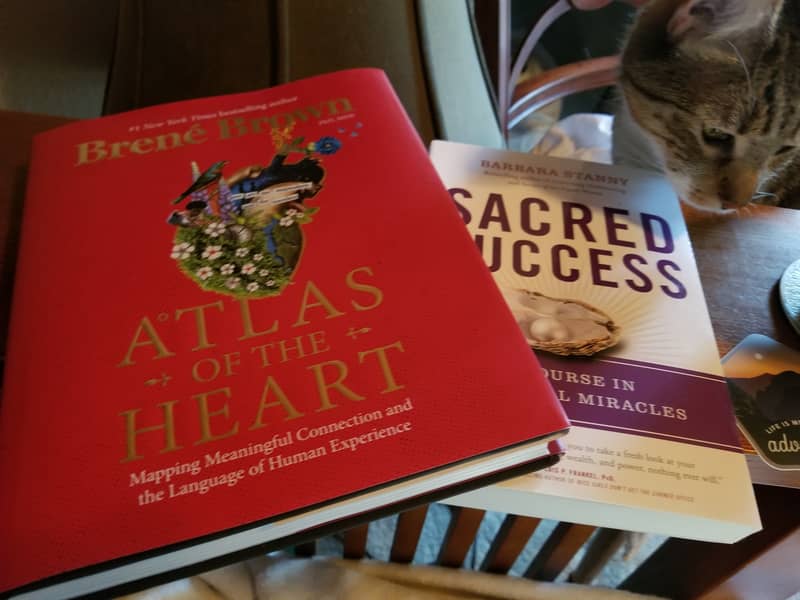 Atlas of the Heart: Brene Brown puts language to 87 emotions and experiences we have as humans based on three years of research and tons of rich data. If it calls to you, I recommend gifting it to yourself.
Sacred Success by Barbara Stanny