It is an indescribably wonderful feeling walking into your own house for the first time.
Thanks to a lot of serendipity and a ton of magical people, we purchased our home last week, affectionately called The Pond House, in Grass Valley, CA (about 55 miles NE of Sacramento).
The Universe conspired so many good graces on us for this home to be ours.
Despite 3 years of contemplation, 2 years of active research, it was really in mid-June of 2021 that our dream to own our home began germinating. The spark came when we were notified that the home we were renting was being put up for sale. It was crunch time.
We put all that research to good use and the Universe had ONE week to deliver us a home (in a seller's market no less) when we came to scout the area for the first time in late June. It had its dramatic points that culminated in us finding our home.
From the moment we walked in, we felt like the house was giving us the warmest of embraces. It had a lush backyard, room for both our offices, tons of character and perhaps most importantly this house was loved on by its previous owners who'd lived here for 22 years.
The stresses were intense throughout this journey but we kept riding the wave, trusting the process and within seven weeks from offer to closing, the house is ours!
We are still taking it all in.
We made it through the move and the 11 hour car drive from San Diego (smoother the second time around) as did the cats (thank God for catnip) and Lily.
The previous owners left us so much lovely furniture that feels like the passing on of a legacy of love and kindness and that keeps the craftsman style character of the house alive and intact.
It has been a team effort and filled with magic. My mother and aunt offered to gift us the down payment on the house which was a gorgeous surprise. The sellers told us that despite the insane seller's market where bidding wars are the norm, they weren't interested in that and they accepted our offer right away – happy to pass the home on to a first time home-buyers with rescue animals. Plus, our home checked off ALL of our boxes, it was exactly within our price range and to add to the miracles, the sellers left us tons of gorgeous furniture that fits perfectly with the home's character.
We are exhausted, happy, sad and everything in between. I am a ball of mush these days crying at the drop of a hat – all good tears.
Leaving San Diego wasn't an easy choice but the right one for us. It's hard to leave such a gorgeous city, especially one with beautiful memories. This is where Alex and I met, got married and started our fur baby family!
I never thought I'd say this but myself but this urban girl has voluntarily gone country!
Dreams DO come true and they are worth the wait! They don't always look the way you'd think but they are BETTER than you could have imagined.
So whatever YOUR next dream is, please keep holding the vision and taking aligned steps to actualize it.
We are over the moon and excited to make the Pond House a place where love, kindness and magic reside and emanate for years to come.
I'm already imagining all the ways to decorate my office and taking it day-by-day with the ENDLESS unpacking. The cats and Lily did great in the move and are getting settled in.
This process deeply and miraculously changed me for the better and I share more about that below.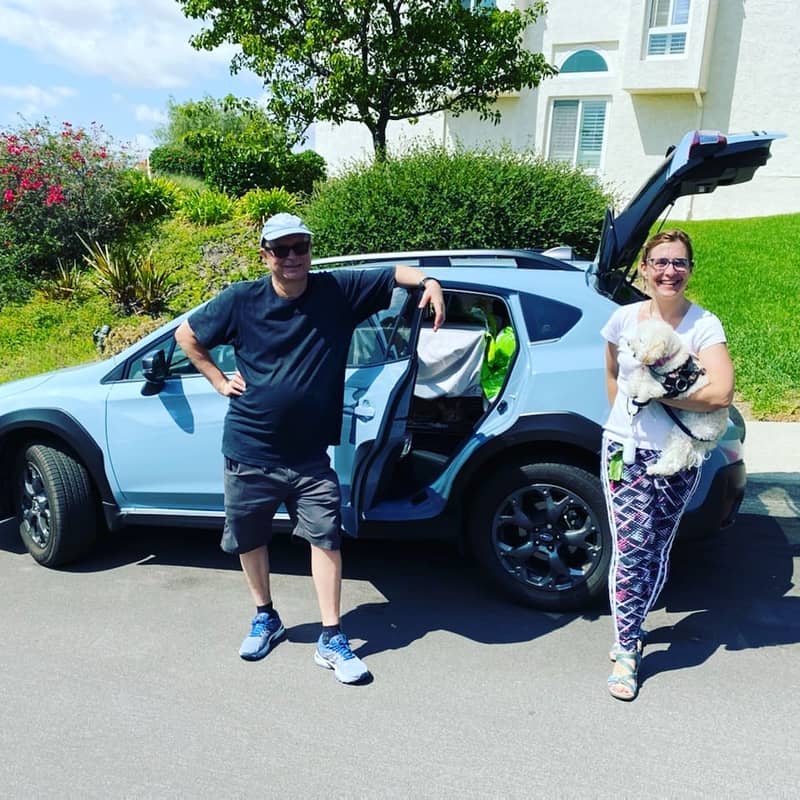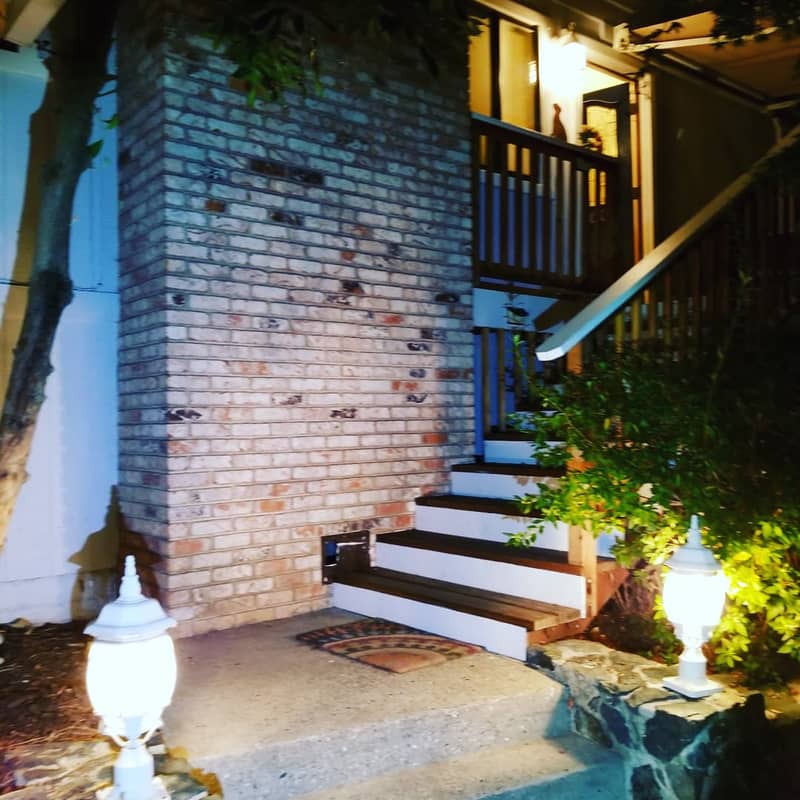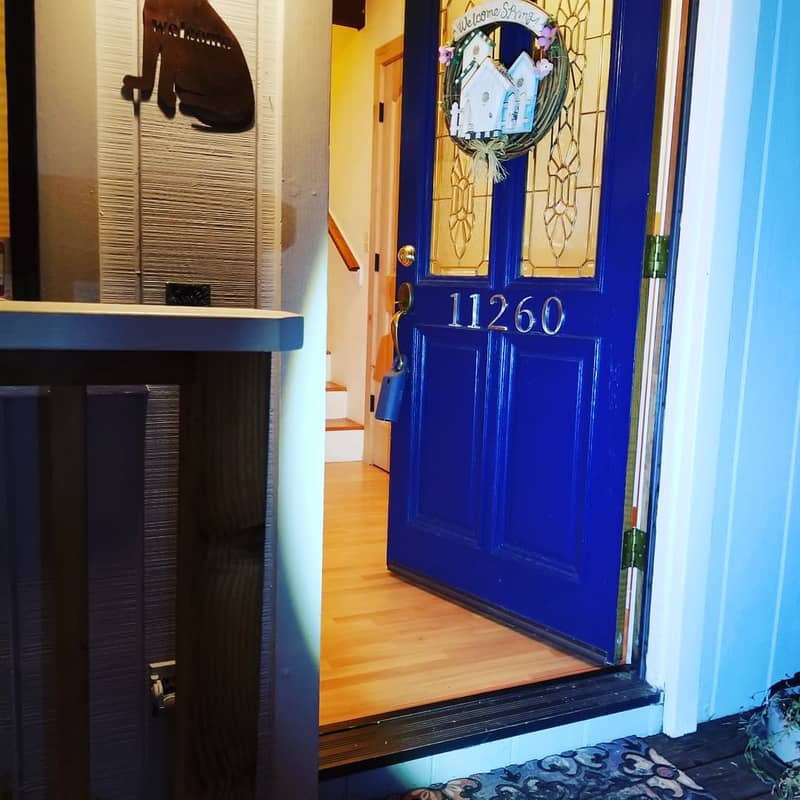 My message to you today is to KEEP BELIEVING.
No matter what your external circumstances might appear to be, magic, support and miracles are ALWAYS available if you are willing to stay open, trusting and to take steps towards realizing your dreams.
To your sweet success,
Priscilla
P.S.: I'm realizing another dream next month: the launch of my first book: The Soulfluent® Leadership Business Guide. To get on the waitlist, click here.
---
The unexpected transformation and journey of becoming that I experienced through the home-buying process (wow!)
One of the truly blessed gifts from the house buying process this summer was the realization that there was no gap I had to close to be a higher version of myself. Rather, all that was required was the realization that the qualities I desired to express as my new normal: commanding, clear, intentional were already within me and so I needed just tap into them.
For so long I had heard the sentiment of 'fake it til you make it' and the idea of faking anything just felt disingenuous.
I much prefer knowing that I (aka we) have an untapped well of infinite treasures within us (aka qualities and attributes) that we can lean into and express as needed.
This has shifted how I think and show up in all areas including my business.
=> The notion that there is nothing to reach for or to aspire to but only an expression of being; a becoming if you will, that is called for to create and to be what is next, is immensely liberating, titillating and utterly gratifying.
The sense of wholeness and empowerment creates enormous energetic space for creativity and self-expression that is grounded in personal Truth and integrity.
Whatever energies and qualities you are being called into next, I invite you to know that you already have it within you and that you have likely used those attributes in the past when you've really wanted something to materialize. This was also just one more confirmation that my Mystic Archetype's natural manifesting style (feel into the desire and trust it wholeheartedly into fruition) has it potency!
There is nothing to "figure out", to "fake" or to seek outside of yourself. Rather, tap into the energies residing with you already and pull them out and see what magic and what dreams you will realize.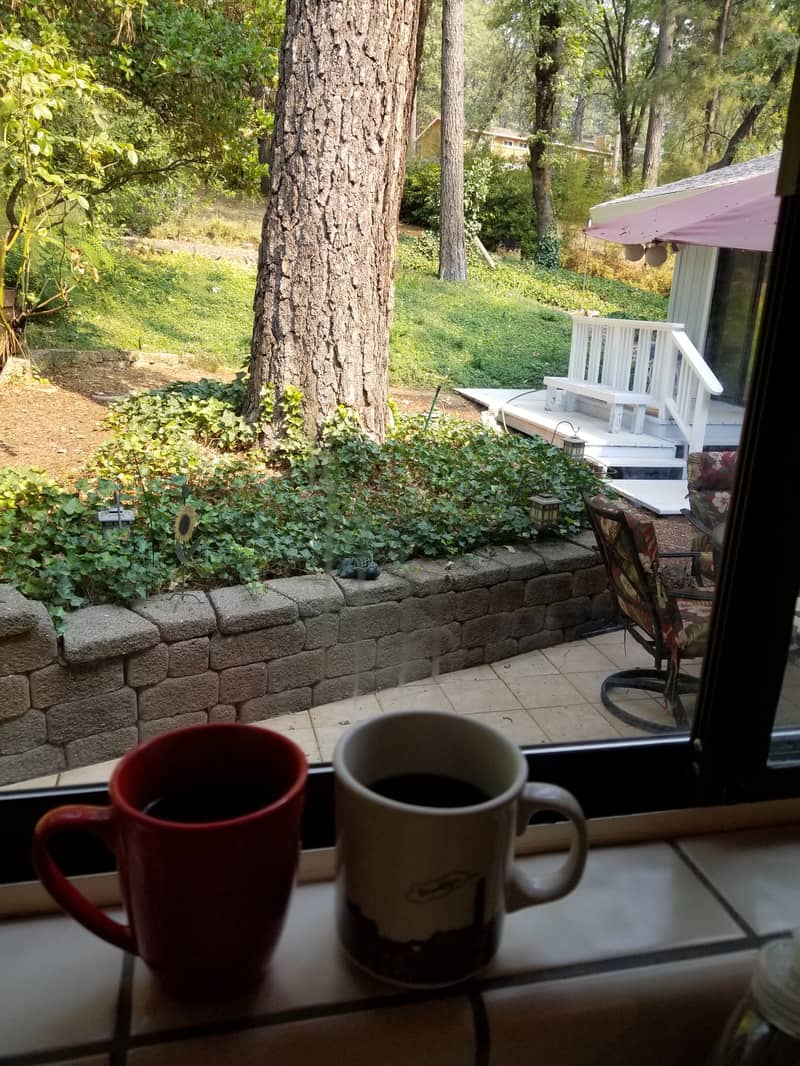 Coffee with view of our backyard our first day at our new house.