Creating a better world starts with looking at how we can show up differently.
This is why today we are venturing into your internal emotional landscape and exploring what it really takes to cultivate inner freedom and a kinder world.
Here are some questions to get us started (grab your journal):
– Where are you accessing your sense of Self and certainty?
– How do you see yourself and your role in a rapidly changing world?
– What are you longing for that superficial activities (shopping, internet scrolling, sex, overspending, overworking, over [fill in the blank] ) aren't satisfying?
– How are external events activating you into old childhood patterns and triggering old cycles that perpetuate overwhelm, blame, shame and busyness?
– Has your inner activist been awakened like mine has and you are wondering how to channel that energy?
I was listening to a Facebook Live today by my amazing colleague Jenny Glick who prompted today's message.
She reminded us that what we don't deal with, OWNS US.
That engaging in shame, blame, anger and frustration (as worthwhile of emotions as they are), without taking full ownership of our experience, is like pushing furniture around in a burning house.
It doesn't create positive change, just more chaos.
Many of us are activated right now and we are feeling unsure of ourselves, the future and perhaps have been over-contemplating the darkness before us. Many of the foundations we relied upon to make us feel secure just aren't giving us the same feeling anymore and it's causing unrest.
And, if you are on a path of spiritual development (you are if you're on my list), you know that true certainty and peace, and the only path forward is an inside job.
The healthy and empowering way through a chaotic world is by going within.
It calls us to take full accountability for how we are showing up in our marriages, friendships, with strangers, online, in our businesses and the quality of connection we have with ourselves.
Chances are you are going through a rebirth of your own.
Deeper, uncomfortable questions are before you even if life is good.
You are being invited to ask yourself who you want to be and how you want to source your personal joy and autonomy in a world that may make you feel like you have no choice at all.
That's the lie.
There's always choice because you are much more than your body, your business, your personality and your circumstances.You are a spiritual being, a soul, with depth, heart, passion and so much to give to the world.
How you choose to step into this next chapter we are in personally and collectively can be liberating and game-changing. Remember that you are powerful, never powerless, unless you choose that paradigm for yourself.
The way forward will ask you to show up differently than you have up until now. It will require being a different version of you and different action.
As we move deeper within ourselves, we find the courage to stop running.
The entire month of June I was housebound with COVID and while I'm on the mend, I still cannot exert myself physically as before and this means that this necessary pause has left me stuck with some very uncomfortable feelings.
I've been running because I don't even fully know what these feelings are but they feel like something I cannot hold. And I've reminded myself that in the darkest of hours, in the moments of greatest courage, I faced my biggest fears and knew that somehow I could and would overcome.
Freedom is an inside job. You know this.
If we want a world that's just and free, we must cultivate freedom within ourselves.
This is the work: excavating the gold within the discomfort, not running away, and knowing that freedom within our souls is ALWAYS available.
Love and Truth are the way.
So is courage, vulnerability, new action and patience.
We have 100% control over ourselves, and by doing our work, we get to transform our inner world and the world around us.
In a loud world, immersing in silence to listen to our Truth is a radical act of courage and personal Power.
And it's why I love doing spiritual work because of how incredibly rewarding and transformative it is. And because sooner or later, we realize the change we seek only we can create for ourselves. We are the answer and we hold the answers.
On a lighter note, this holiday weekend, we made it up to Lake Tahoe for the afternoon and it was so amazing to be outside in nature. Lily loved it!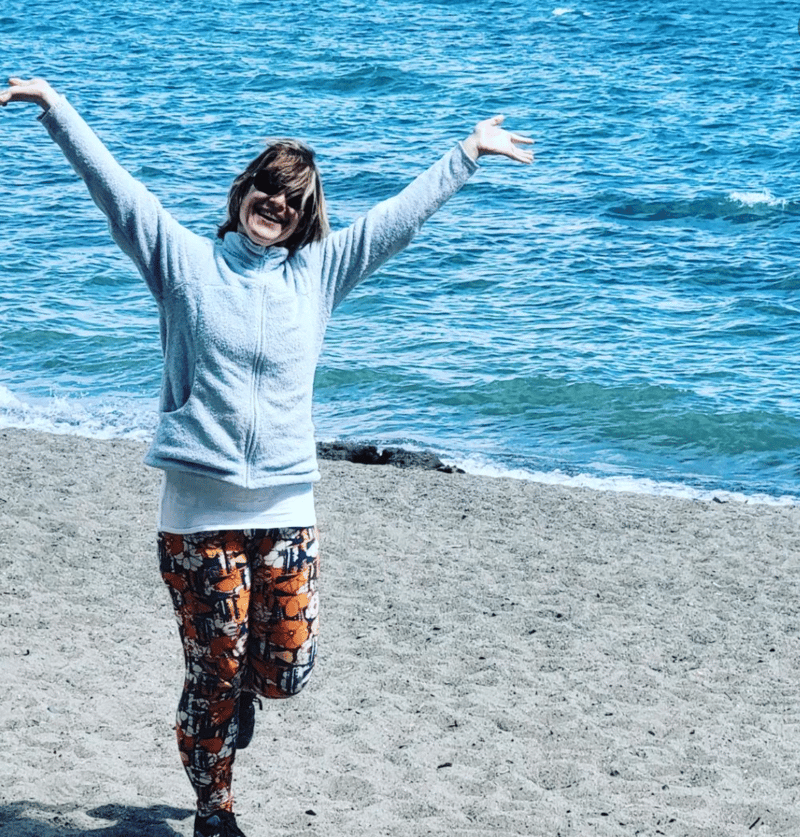 Today, I invite you to contemplate the questions above and to give yourself what you need to create inner freedom. It's a gift only you can grant yourself.
Whatever you are experiencing, I want you to know that you are not alone and to not go through it alone. If support is helpful, call upon it.
Now is where the magic happens so let's stay present as we co-create a juster world for all. It will take elevated actions and paradigms to create a different reality. I believe that everything we are experiencing is fertile ground for who we are becoming. It's not for nought.
I'd love to hear how this post resonated with you and what is emerging for you now.
To your sweet success,
-Priscilla
P.S.: I have availability to work with 1:1 clients this summer and into the Fall who are going through internal and outer shifts and who'd appreciate context and a roadmap from their Soul to support them moving forward. I've added a payment plan to the 90 minute Business Leadership Intensive and extended payment plans are available for the Akashic Records Level 2 Training.
If you're not sure how I can best support you right now, let's explore what's the best fit in a zero pressure conversation.