Being a soul-driven entrepreneur means that you are always curious about how you are innately designed to make a difference and to be abundant.
You've tried following formulas that promise riches only to find that the path forward is within you.
Over the last month, I've been putting together the course materials for Akashic Records Level 2 Training that includes an entire 50+ page manual which outlines in specific detail, what your soul's unique path to vitality, contribution AND abundance really is about.
The first part of the 4-part assessment process includes the Assessment wheel is intertwined with the 7 chakras. The chakras are energy centers in the body that represent different energetic aspects of ourselves and that help us to calibrate our energy for optimal vitality with our emotional, physical and spiritual well-being.
The Soulfluent® Soul Wealth Blueprint Wheel (SWBA) has 7 key aspects of our Soul Self that when calibrated to optimal capacity, allows us to make the greatest impact, and to be in our highest frequency of abundance. It's an energetic calibration tool, if you will, that you can come to again and again to ensure you are operating at your best. Moreover, it allows you to pinpoint with precision, sub-areas where you've been stuck, holding yourself back or even unaware of energies that were not serving you.
The SWBA Wheel is really your soul's map for wealth and the energies that support optimal creation rooted in wholeness and abundance.
So during the 30 day virtual Akashic Records Level 2 training, you will not only be learning how to access the Akashic Records of others so you will be able to do profound and powerful intuitive readings for your clients, but also, you'll be adding an incredible proprietary tool – the Soulfluent Soul Wealth Blueprint Assessment Program as well.
At the end of the training you'll become a Certified Akashic Records Reader AND a Certified Soulfluent® Soul Wealth Blueprint Assessment Practitioner allowing your clients to deeply understand the rich layers of abundance, vitality and contribution available to them when they follow, understand and calibrate energetically to their unique path to abundance.
Here's a sneak peak at the Assessment Program at a Glance because it's just so rich, I couldn't help sharing it with you. I know it won't make a ton of sense but I'm hoping that for those of who you might be on the fence about taking the program, that the energy will show you how incredible the program really is.
Note: the requirement to register for the virtual training that starts THIS WEEKEND, is that you already be proficient in accessing your own Akashic Records.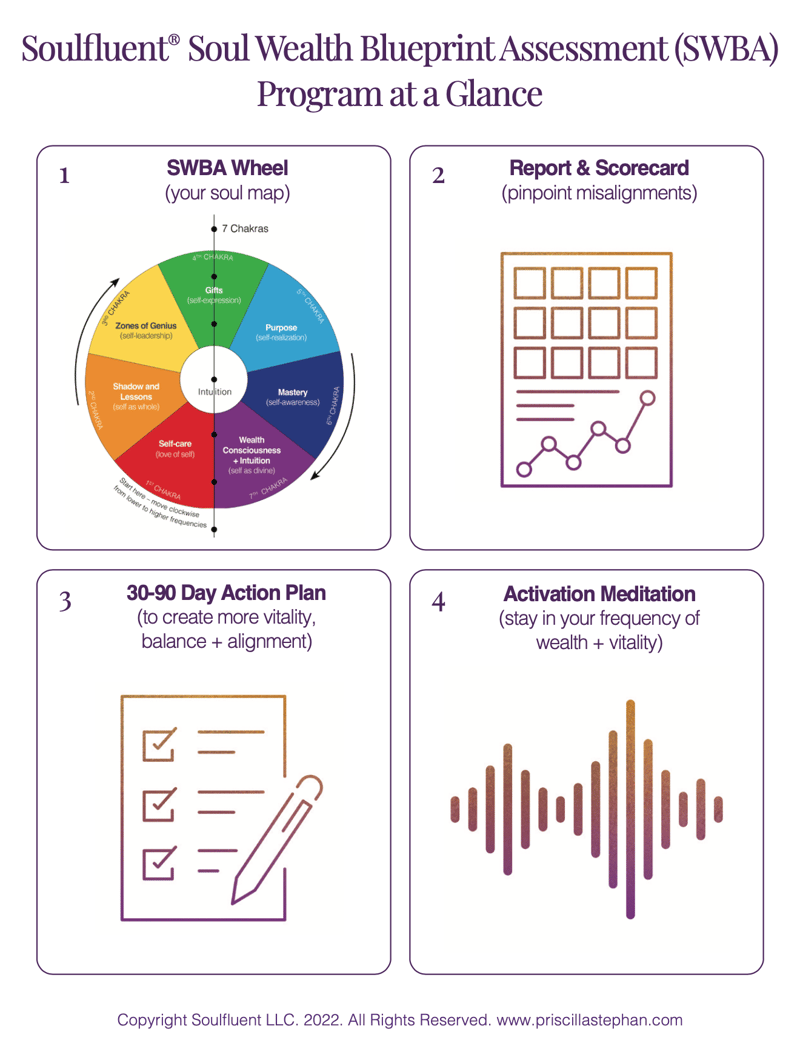 These are skills that you will have for a lifetime that will add so much depth and understanding to your clients so they have the freedom and knowledge of their own path to abundance by leaning in even more into their unique strengths and magic.
The Level 2 training starts this weekend, Sept 17th and Sept 18th on Zoom and continues through mid-October so you have plenty of time to practice, integrate and to become proficient in your skills. Not to mention that you will leave with 2 incredible certifications that will add so much value to your already incredible practice.
To register for Akashic Records Level 2, click here.
To your sweet success,
-Priscilla
P.S.: Do you have a colleague for whom this work might be the right fit now? I'd so appreciate you sharing this email with her.