The reason you're not taking action in your business isn't lack of clarity, it's a lack of self-trust (cue gasp!).
I often hear from women entrepreneurs that the primary reason they aren't taking the uncomfortable actions in their business is due to a lack of clarity.
And yet the search for clarity is often masking the deeper problem: eroded self-trust.
There is no doubt there are times when, even with heaping buckets of self-trust and confidence, obtaining clarity IS the immediate and obvious next step.
The problem arises when lack of clarity is misidentified as the real issue behind lack of action.
Highly resourceful entrepreneurs are innately intuitive and can often sense when something is off, when a new idea is brewing and when a pivot or shift is coming.
The truth is that they are often more clear than they give themselves credit for.
However, in business sometimes it is hard to distinguish truth from fear when you are trying to steer the ship that is your business and navigate the storm (the emotional roller coaster of running a successful business) too. It's normal.
=> But where entrepreneurs can start running in circles is when they mistakenly believe they are lacking in clarity when what they are lacking is in self-trust.
Lack of self-trust doesn't just happen.
It compounds then it festers then it ultimately erodes self-confidence.
When self-trust is eroded then a core driver of the entrepreneurial spirit (confidence) is compromised.
It's insidious, happening in small but potent ways. Here are a few examples:
=> The disappointment that comes from learning from an independent assessment of your staff that they perceive you negatively despite your sincere attempts to be generous, open and approachable.
=> Ignoring a deep inner knowing that it is time to part ways from a business partnership, you stay silent (again) and try to give it yet another go, instead of having an honest conversation with your partner that it may be time to shift direction. Meanwhile, that voice inside you only grows louder as you start to question yourself and your path more and more.
=> Hiring a new team member despite the red flags telling you not to, and your heart is crushed when it doesn't work out. You blame yourself and feel angry, confused and are wondering how it went so badly. Now, even though you still badly need support, you may feel more conflicted about hiring someone else and trusting that a good person exists and that you can trust them (and yourself to manage them).
The result: You expend even more energy as you try to pick yourself up emotionally and financially and try to keep a good professional facade.
Meanwhile, you are secretly feeling hurt, scared and more distrustful.
And the lack of self-trust creates a deeper sense of heaviness and loneliness that it's up to you to carry the weight of your business (solely) on your shoulders despite the desperate wish to unload that burden on people you CAN trust (i.e. and awesome team).
But now the cycle of broken self-trust has begun.
And the fearful and doubting questions emerge:
*What if I make the same mistake(s) again?
*What if I have to pick up the slack and end up paying someone who ends up creating more work for me than less?
*What if the person I want to hire doesn't exist (i.e. they're a Unicorn that exists only in my mind?).
*What if I'm not cut out for this anymore and it's time to move on (if I can only imagine what that is)?
The greater the self-doubt, the harder it becomes to take bolder, uncomfortable, but necessary steps to grow your business. And this creates or perpetuates stagnation.
=>A symptom of bruised self-trust is an on-going questioning of direction.
And so over time, to compensate for the fear of making a mistake, failing (again perhaps) or feeling disappointed or defeated, lack of clarity is named the culprit and the source of the solution.
And it sounds like this: "If I only have more clarity….. I would X".
But acting on X doesn't actually happen.
Truth time: you know a lot more than you are giving yourself credit for.
You are just afraid to fail again so the loop of confusion, high expectations and drama continues.
The truth is that you know if it's time:
->To part ways.
->To hire or fire that team member.
->To have a more soul-satisfying, less cumbersome and a LOT more spacious business.
->To change course and take a risk.
->To listen to something bigger that is calling to you.
So how do you navigate the self-trust issue?
#1: The best and lasting way to start to build up the self-trust is to admit to yourself that you know shit already.
A lot of it in fact.
#2: It's time to look at what you are REALLY afraid of.
Are you afraid of:
Disappointing clients and colleagues?
Not being able to carry another employee's livelihood on your shoulders? (i.e. yet one more responsibility you don't want).
Losing respect or rejecting you for making decisions they don't understand or agree with?
Amassing debt? Losing your business? Your hard-earned reputation?
The unknowns to such a degree that it has paralyzed you?
Facing the fear head on will start to give you insight to move past it and release its death grip on you.
#3: You must take (different) action.
Healing self-trust and the ensuing confidence happens when you take courageous action in spite of your fear. Start with baby steps but act.
The good news is that while you may be the bottleneck holding up change, you are also the person that can make the change.
Realizing this can be empowering once you've realized that you are both the problem AND the solution.
And that while the changes ahead may be scary, they won't kill you.
In fact, they may be the best thing that's ever happened to your business, your bottom line and to your sense of joy and fulfillment.
Working through the fear that holds you back from taking the uncomfortable but necessary steps to creating the life and business you desire/ What I shared above/ is one of the main things that I address with my clients in my 6 month 1:1 program that takes service-based professionals such as coaches, consultants, attorneys, real estate agents and bookkeepers, who are currently making $15k-25k/month and maxed out with 1:1 work, and want to double their income, and to simplify their business and help a smaller but more ideal and profitable client base so they can get some of their time back and live a more spacious lifestyle.
Message me if interested in this program and we will connect to see if you're a good fit. If so, we can get you started right away.
=> If your business isn't quite at this level yet but you are ready to grow, consider joining an upcoming Leadership Roundtable (details right below).
---
NOW OPEN: October 2nd: Leadership Roundtable (10am – 2pm PT)

What would it be like to be more confident and bold in your leadership and to say, create and be the version of yourself that you've envisioned?
This is what happens when you attend a Leadership Roundtable.
You will walk away with:
1. Clear, actionable next steps for your business.
2. Knowing the Soulfluent Leadership Archetype and the energies, gifts and talents it offers to support you in growing your business moving forward with a lot more ease.
3. Collaboration of the minds with the other amazing women in the Roundtable also actively "in the arena" growing their businesses and doing their soul's work (masterminding + a 15 minute business hot seat).
4. A 30 minute get-it-done session where you will actively work on a business project/opportunity.
5. A group transmission in the Akashic Records that's healing, grounding and empowering to keep you in action and that provides grounding context on your stage of business growth and how to navigate your leadership edges.
=> PLUS a1 hour private coaching session with me one week after the Roundtable.
Brand new bonus : The Soulfluent Leadership Archetypes Business Guide: The Keys To Alchemize your Strengths Into Gold."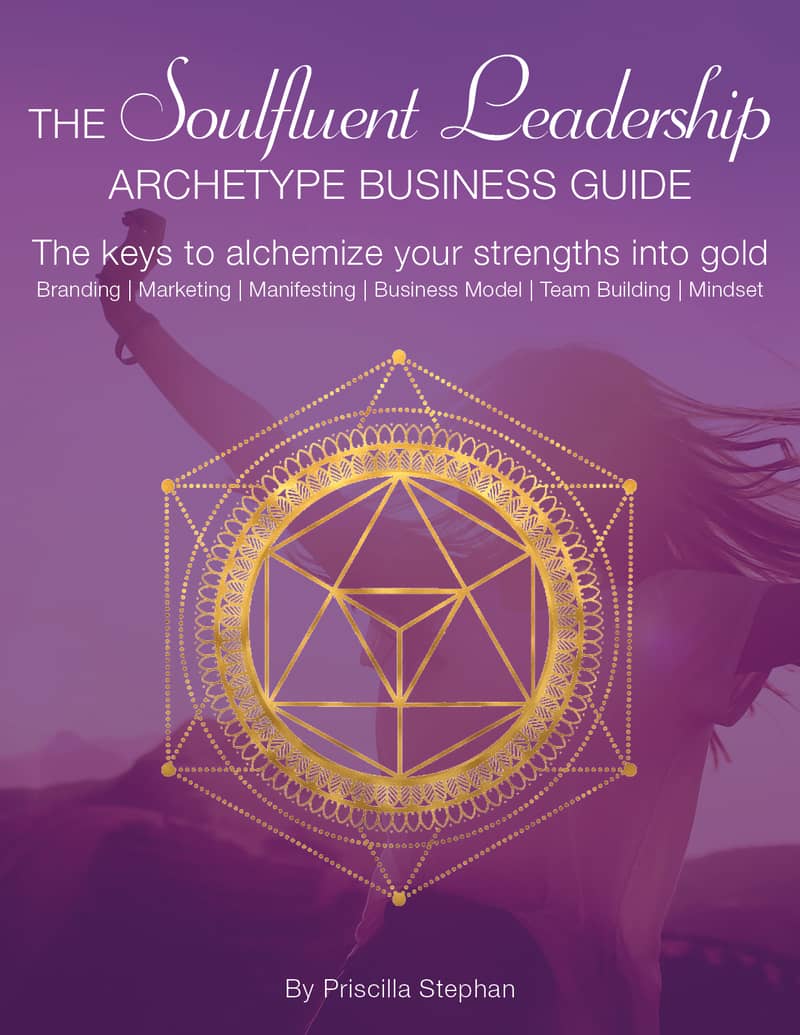 This rich 50 page document provides a roadmap \to grow all core aspects of your business including: branding, marketing, manifesting, your business model, team-building and your leadership mindset in alignment with your dominant Leadership Archetype and is only available to my clients.
Roundtable Investment: USD 500.00